May 24, 2018
The Staff Pension Plan (SPP) Fair will take place on Thursday, June 21 from 11:30 a.m. to 1:00 p.m. at the Robert H. Lee Alumni Centre. Join us to learn more about your pension plan and gain some pension knowledge. The Pension Board, management and staff look forward to meeting you and answering your questions. […]
May 24, 2018
If you are an Active or Deferred member, you will receive your annual statement in late May. Review our Guide to reading your Annual Member Statement to help you understand the information on your annual SPP member statement.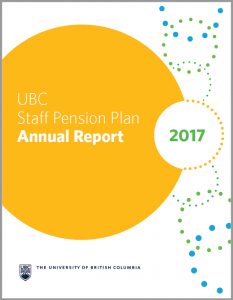 May 24, 2018
The Staff Pension Plan 2017 Annual Report is online. The report includes a Message from the Chair and Executive Director, highlights for the Plan, membership and administration statistics, a review of the Plan's funds and investment performance, FAQs, and information about how to access your pension information online. View the 2017 Annual Report.
May 24, 2018
When you retire, you will receive a monthly lifetime pension from the UBC SPP. This pension is paid for your lifetime and if applicable, your spouse's lifetime. You will not outlive your pension. The amount you will receive and the form in which you receive it, depends on several factors including: Age; Marital status; Your […]
May 24, 2018
We've made improvements to myPension – your online pension tool. With myPension you can access your personal pension information, review your beneficiaries, view your service accruals (if applicable), and calculate pension estimates to better understand pension income for retirement planning. What's New?  Pension Adjustment – view a detailed calculation of your annual pension adjustment. Electronic Annual […]
May 24, 2018
Interested in becoming a board member? An election will be held this fall for two positions on the Board. The Board meets five to seven times each year, generally for a half day each meeting and you'll have a few hours of preparation for each meeting. No prior pension knowledge or Board experience is required. […]
May 24, 2018
The UBC Board of Governors has reappointed Barry Gros to his second term as the Independent Chair of the SPP Board. They have also appointed Joanna Carson to the SPP Board. Their terms are from January 1, 2018 to December 31, 2021. We would like to thank Barry for continuing his service on the SPP […]
May 24, 2018
Introducing Joanna Carson Joanna is the newest member to join the SPP Board. We asked Joanna about her past experience and what she looks forward to in her new role on the Pension Board. QUESTION: What experience do you bring to the SPP Board? JOANNA: I'm a professional accountant and a finance director with two […]
May 24, 2018
The 2017 annual governance report was presented to the UBC Board of Governors in April 2018. The Board of Governors was advised that the SPP was compliant with the B.C. Pension Benefits Standards Act and Regulations, and with internal governance policies. This report as well as past reports are available in the Plan Governance section.
May 24, 2018
On January 1, 2018, SPP retirees received an increase to their pension of 0.75%.