September 14, 2021
Understanding your Staff Pension Plan (UYSPP) is an informative 90-minute workshop for Plan members of all ages to learn about their UBC pension plan, pensions in general, and things to think about for future retirement. Visit our Upcoming Pension Workshops page for 2021 fall workshop dates and to register.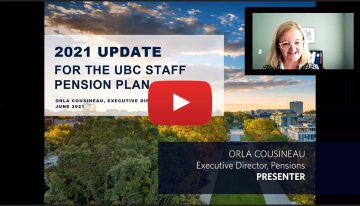 June 17, 2021
The UBC Staff Pension Plan (SPP) held an online update on June 10, 2021. The presentation was designed to give SPP members an update on how the Plan performed in 2020, membership and financial highlights, 2021 initiatives, Plan investment information, tips on how to read your annual statement, and overall reassurance that the pension plan […]
May 13, 2021
The 2020 Annual Statements for Active and Deferred members are available in myPension. If you have elected to receive a paper statement, then it will be mailed to you in May. In the meantime, you will be able to access your statement 24/7 online through myPension. A Guide to reading your SPP Annual Statement is available on […]
May 6, 2021
The Staff Pension Plan 2020 Annual Report is online. The report includes a Message from the Chair and Executive Director, membership statistics, Plan and financial statistics, a review of the Plan's funds and investment performance, and information about how to access your pension information online. Throughout 2020, our primary focus has remained on enhancing benefit […]
April 28, 2021
Members are invited to attend an online presentation with an update on the Staff Pension Plan on Thursday, June 10 @ 11:00 a.m. This update will include a 30-minute presentation by Orla Cousineau, Executive Director, Pensions, followed by a Q&A period. Registration is required in advance via ZOOM video conferencing. Visit staff.pensions.ubc.ca/2021update to learn more […]
April 9, 2021
A listing of the SPP's public equities holdings is now available on the Responsible Investing section of UBC IMANT's website
April 6, 2021
If you are an Active or Deferred member of the Staff Pension Plan, you will receive your annual member statement in May. Statements will be available in myPension. You will also receive a mailed copy of your annual statement unless you have opted out of receiving paper statements. If you wish to opt out of […]
December 24, 2020
The Pension Administration Office staff and management will be unavailable from December 25, 2020 to January 1, 2021 inclusive due to our annual office holiday closure. We will return to work on Monday, January 4, 2021 and will be available through email and phone. Our office is currently restricting in-person visits due to COVID-19. If […]
December 3, 2020
We are pleased to announce that Lia Cosco and Paul Kwon have been elected as members of the Staff Pension Plan (SPP) Board in the recent election. Both Lia and Paul will be joining the Board for their first terms of office from January 1, 2021 to December 31, 2024. We would like to thank […]
December 3, 2020
The 2020 issue of The Pensioner is online. Read the newsletter.